Plan your travel
Track your expenses
Stay connected
Traveler Comfort: Up 3X
Policy Compliance: Up 95%
T&E Management Costs: Down 95%
ROI: Big Up
Contact sales
Plan your entire business trip with a few quick clicks in your phone.

Aggregation
Air, Rail & Road Travel, Hotels, Restaurants, Reviews

Prediction
Airfare drops, Probability of flight delay, Check in queues

Personalization
Rating of aggregated options by traveler preference, Documentation requirement/expiry tracking

Comfort+
Door-to-Door itinerary in a single app, Auto identification of better deals after booking or ticketing, Forex & cash advances, Single click approvals, Single screen approval tracking, Automated Policy Compliance
Completely hassle free travel
Save Time: Auto check-in, Airport maps, Lounge access & booking, Single click re-booking in case of delays or cancellations
Personalization: Frequent flier miles, Baggage tracking, Preference based seat selection
Safety: Instant alerts on risks at destination, Predictive reports basis the latest developments
Expense Management: Auto logging of card expenses, Real time logging of receipt photographs, Real time spend vs budget tracking, Forex management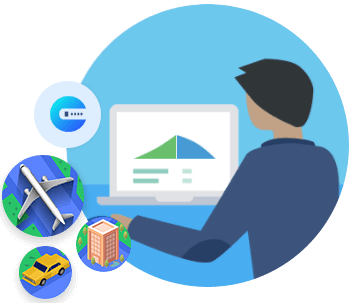 Post Trip
Auto filed expense report immediately filed.

All expenses across travel and non travel spend collated by trip and auto-logged into an ERP real time.

Accruals to each vendor visible real time.

GST input credit can be availed.

VAT in foreign locations refunded within 1 month

Traveler feedback gathered into feedback.

Analytics updated real time.